Spectra Carbon Laser Peel in Delhi
Spectra Carbon Laser Peel also knew as the Hollywood peel or Hollywood facial is a go-to treatment for celebrities around the world. With natural aging, sun exposure and acne the skin gets damaged and starts to show lines, wrinkles, and blemishes. Carbon Laser Peel helps treat these facial skin problems to give a more rejuvenated youthful face.
Spectra Carbon Laser Peel is a US-FDA approved state-of-the-art equipment used not only for skin rejuvenation but is also a solution for pigmentation correction and tattoo removal.
Spectra Carbon Laser peel is used to:
Reduce lines & wrinkles
Shrink large open pores
Correct pigmentation
Smoothen skin texture
Correct mild blemishes & marks
Rejuvenate the skin
Treat acne & acne Scars
Smoothen skin texture
Remove unwanted tattoo
Correct uneven skin tone
The Procedure:
Spectra Carbon Laser peel uses concentrated pulsing beams of light & carbon spectra lotion. After an initial consultation, a typical Spectra Carbon Laser peel will be done following these steps:
The procedure begins with skin being thoroughly cleansed.
Carbon Spectra Lotion is applied on the face, avoiding the eyes and mouth area.
Focused and controlled beams of the laser are then used on the problem areas.
The laser is absorbed by the carbon particles present in the lotion. This helps in treating acne and also penetrates the pores simultaneously.
The collagen production is accelerated due to the thermal effect of the laser.
The carbon spectra lotion is then vaporized using a dual-pulsed q-switched nd:yag laser.

Results
This helps in regeneration of new skin and you will immediately see a more youthful you! It helps to get rid of dead cells from the upper layer of the skin and also helps in unplugging the pores. With regular sessions, the inner wall of the pores starts to shrink resulting in reduced pores size. You will also experience that the skin tone and texture improves resulting in a more rejuvenated and youthful looking skin. The accelerated collagen production helps in improving skin elasticity.
Even in 1 session, you will see a significant reduction in acne, open pores, pigmentation. However, for best results, 3-4 sessions at 2-3 weeks interval may be required.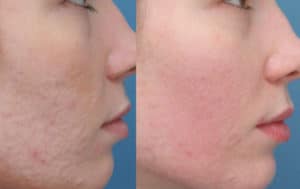 Recovery:
Spectra Carbon Laser Peel is a 30 minutes procedure and is painless with no downtime. Unlike chemical peels, there is no delayed exfoliation or shedding process.
Mild redness or skin irritation may be experienced by some, which is only temporary and subsides in few hours. It is best to avoid direct sun exposure immediately after the treatment.
The Equipment: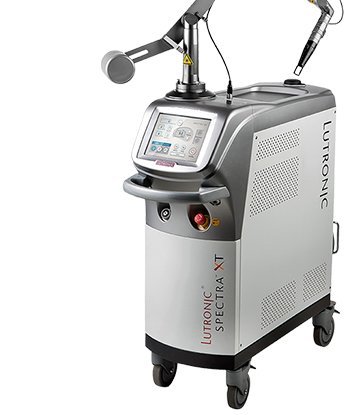 Dr. Sumit Gupta uses the highly sophisticated Spectra XT device from Lutronic Corporation. The Spectra XT is called "The Extended Platform". In particular, its newly extended treatments, namely "Gold Toning" with 595 nm, "RuVY Touch" with 660 nm and "Revital Treatment" with 1064 nm quasi-long pulse (Max. 45 J / sec), offer more treatment choices to both doctors and patients.
To book an appointment for Spectra Carbon Laser Peel in Delhi with Dr. Sumit Gupta, contact us at: +91-9560064696 or info@sumitguptamd.com