Fractional Resurfacing in Delhi
Fractional Skin Resurfacing is a highly effective anti-aging procedure used to correct many of the skin problems including dark spots, deep wrinkles, open pores, irregular skin texture, acne scars and stretch marks.
The collagen present beneath the skin is destroyed over time due to natural aging, sun damage, pollution, acne, or could also be due to injury or scarring. These could lead to loose, irregular textured, saggy and blotchy skin. Fractional resurfacing procedures uses technology that goes deep into the skin and stimulates collagen production making the skin to plump up, filling the fine lines, wrinkles, and acne scars. The end result of a fractional resurfacing is firm, smooth, rejuvenated and younger looking skin.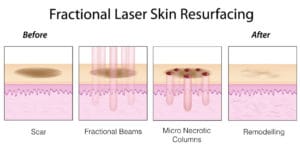 Depending on the patient's condition & requirement, after careful analysis, Dr. Sumit Gupta uses various state-of-the-art equipment for fractional resurfacing. Dr. Sumit Gupta is one of the very few top dermatologists in Delhi with all devices under one roof.
The Futura laser fractional CO2 laser device Japanese precision technology:
With the use of Futura laser fractional CO2 laser device for fractional resurfacing, treatment parameters can be fine-tuned as per the patient's requirement, making it possible to deliver effective & customized treatment options.
EndyMed's FSR (fractional skin resurfacing) handpiece
EndyMed's FSR handpiece is the latest edge-cutting instrument used for fractional resurfacing. It minimizes the risk of post-inflammatory hyperpigmentation. EndyMed's FSR is used to treat skin roughness, hyperpigmentation, wrinkles and scars on the face as well as the body. Fractional Radiofrequency technology performs micro-fractional ablation of the epidermal layer and deep dermal volumetric heating in one pulse.
Endymed IntensifTM micro-needle RF handpiece
The Endymed Intensif micro-needle RF handpiece emits heat into the dermis,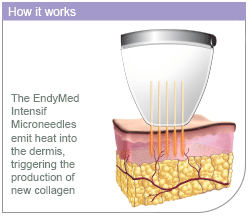 accelerating the production of new collagen. It is one of the most affecting dermal skin remodeling methods and allows deep penetration with deep dermal heating resulting the skin to revive and accelerate the natural production of new collagen and elastin. The EndymedIntensif is used to treat acne scars, stretch marks, deep wrinkles, and fine lines. The Intensif's sterile and high-quality gold-plated microneedles are tiny, thin and tapered to ensure a high level of efficacy with minimal discomfort and downtime.
To book an appointment for Fractional Resurfacing in Delhi with Dr. Sumit Gupta, contact us at: +91-9560064696 or info@sumitguptamd.com